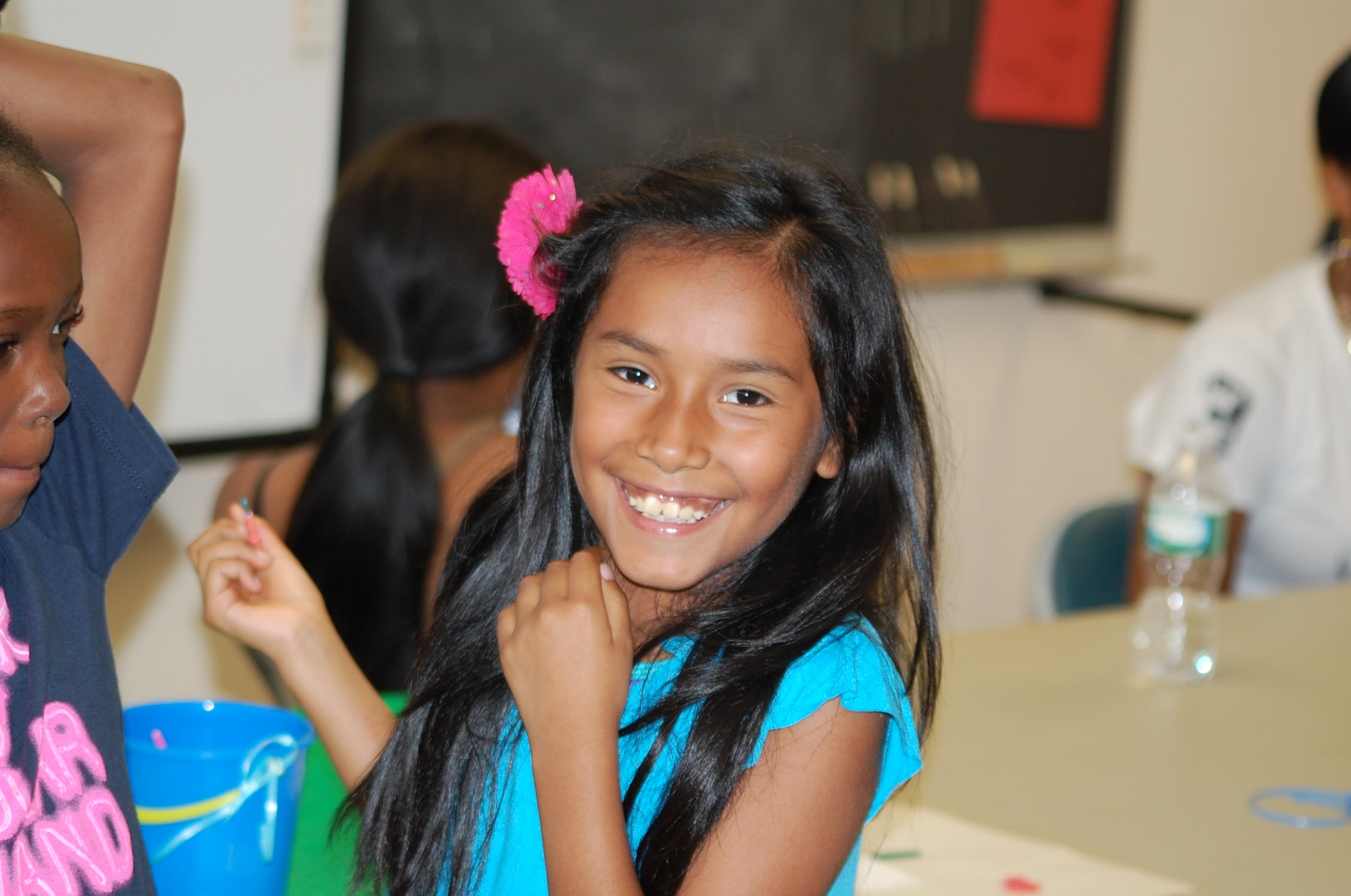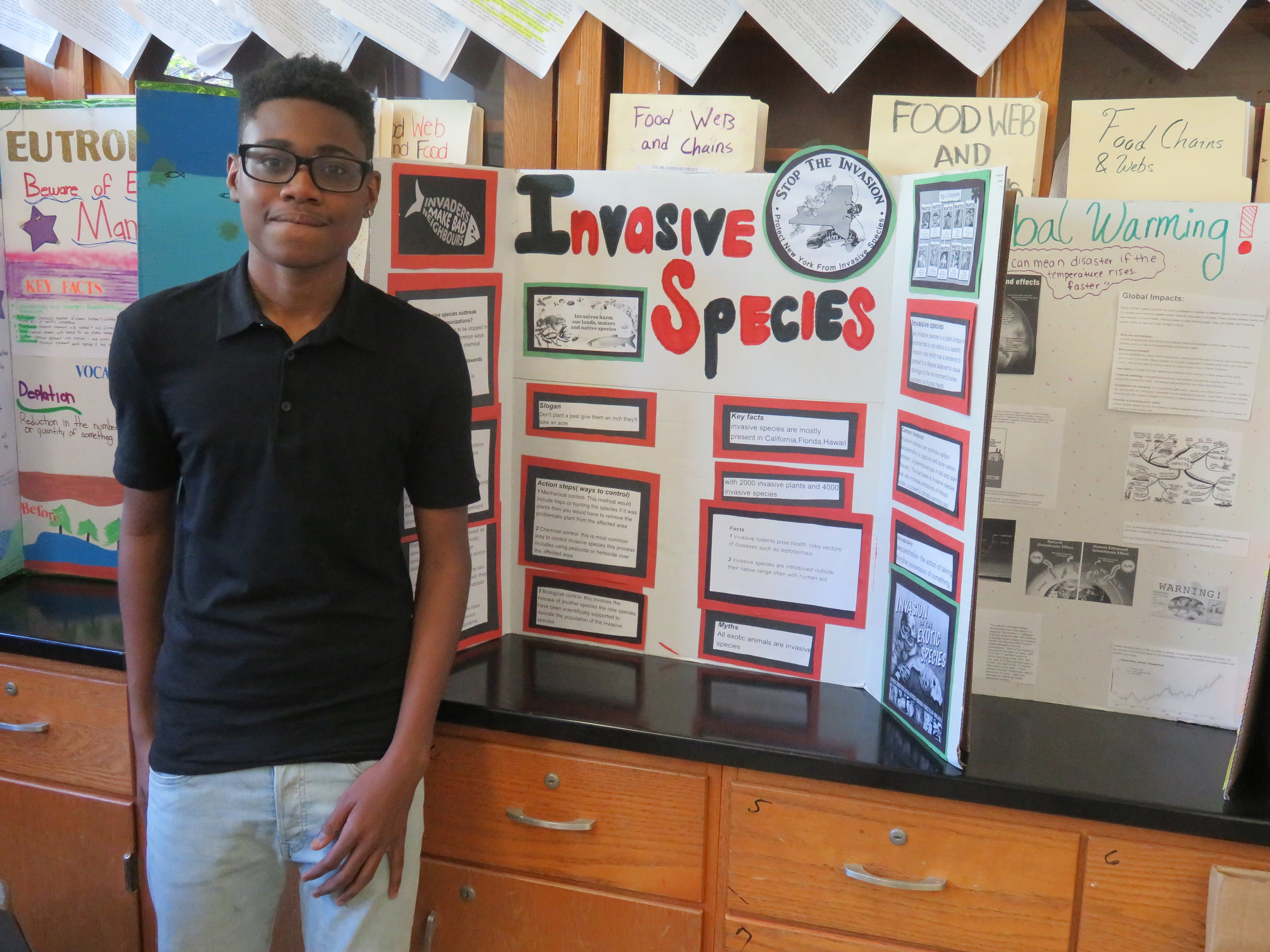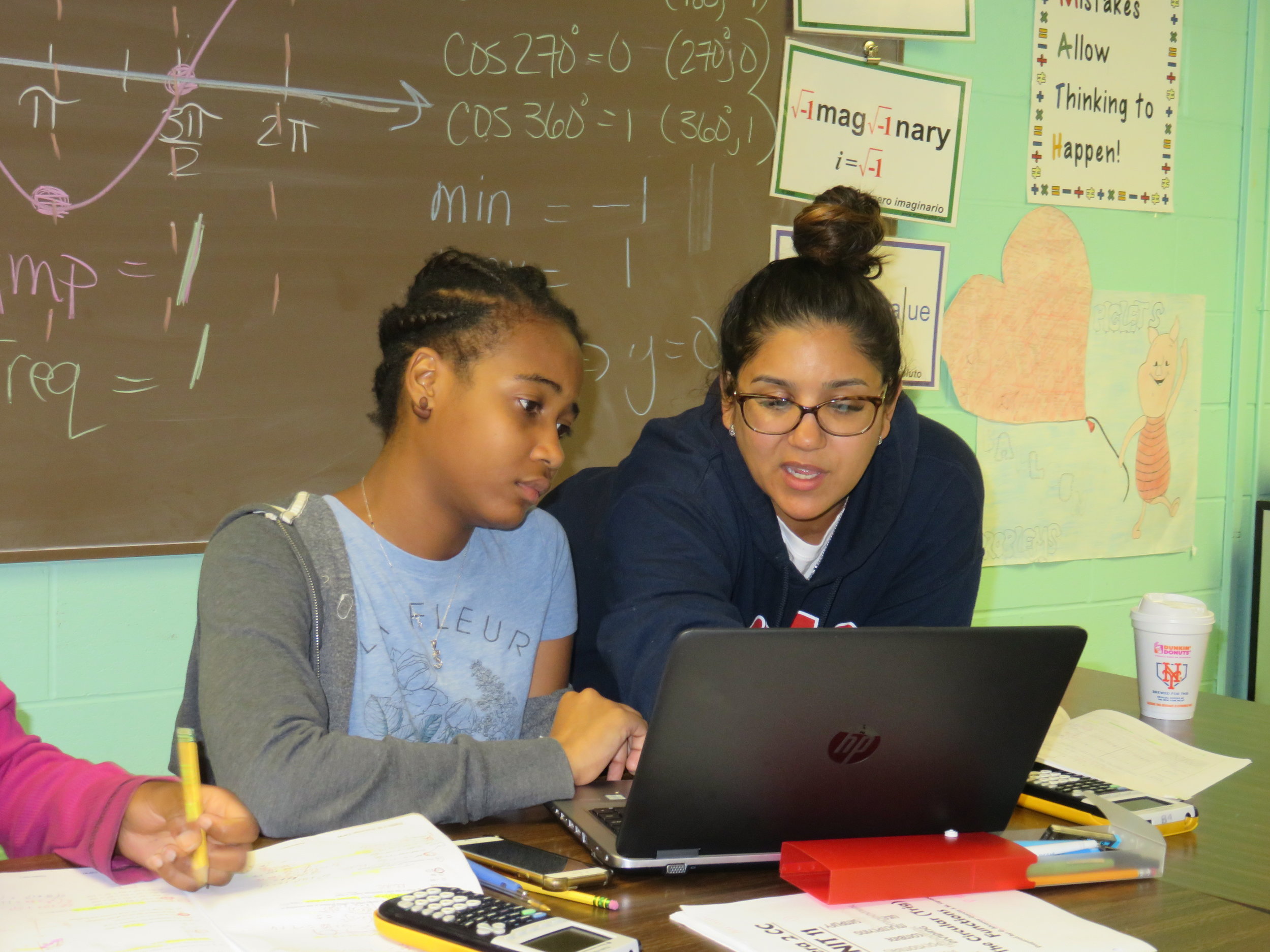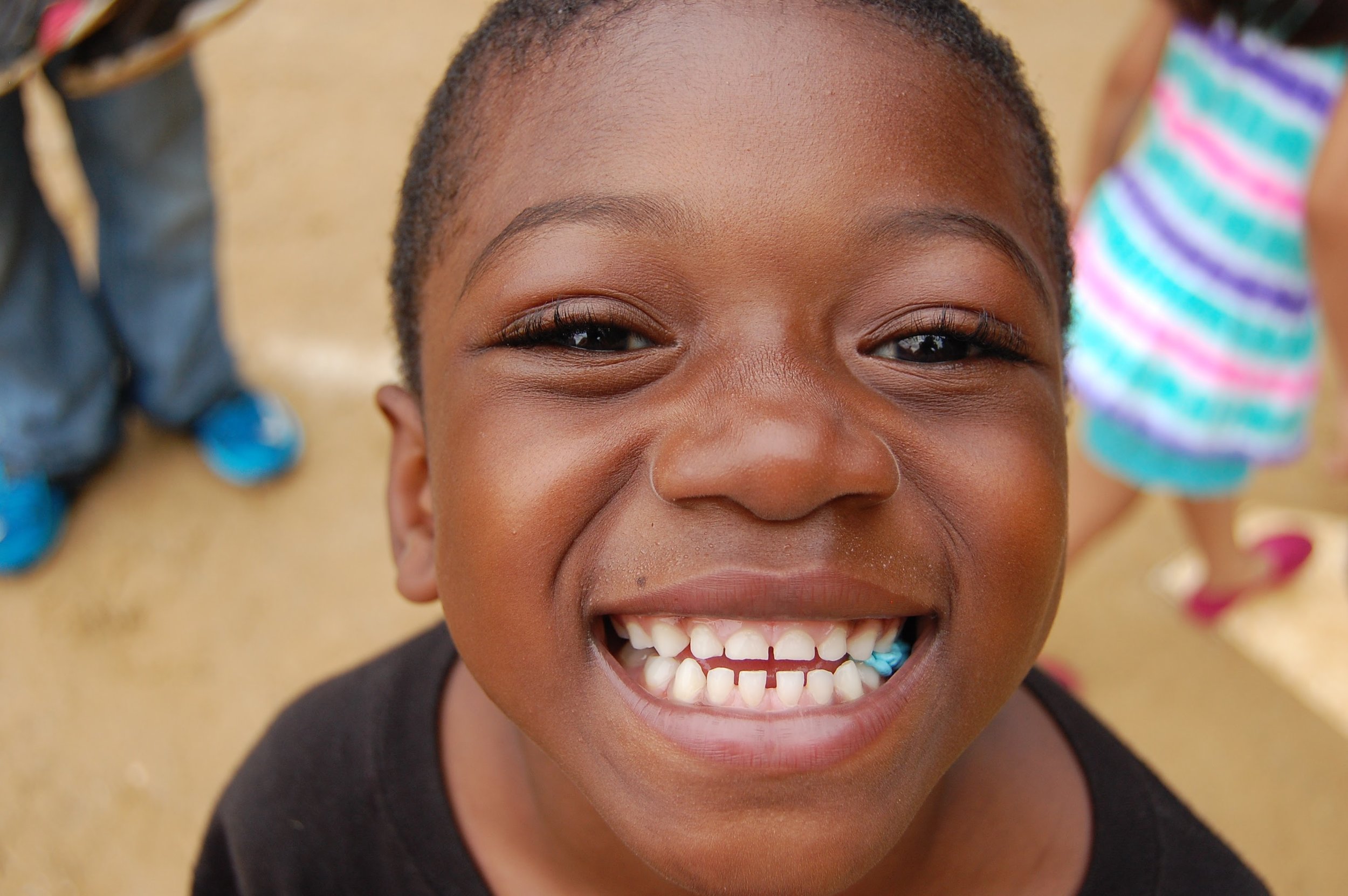 Our goal is to help these homeless and
at-risk children be the first in their families to attend college and the last to live in poverty.
Brighter Futures After-School
Mentoring Program
"The Mentoring Program gives kids a chance to show they really can succeed at school and a reason to keep trying to improve their lives. One of the main reasons this program works so well is that the kids know they have a caring adult they can call anytime so they don't have to feel so alone with their problems."
The Brighter Futures Mentoring Program was established in 2004 as an extension of our Summer Camp in order to maintain contact with at-risk campers and counselors throughout the year, help them perform better academically and encourage them to strive for education beyond High School. Guidance counselors, social workers and teachers refer children to the program.

All of the 150 children in the program are currently homeless, have been homeless at one time, or come from very low-income families.

Brighter Future provides individual and group tutoring four days a week in five different locations in Yonkers and White Plains. Children attend as they are able, but many come daily, craving both the academic support and the individual attention that is missing from so many of their family situations.
On weekends, children sometimes volunteer to help with training for the Special Olympics as their way to give back. Brighter Futures programs are targeted at children in three different age brackets.
- - - - - - - - - - - - - - - - - - - - - - - - - - - - - - - - - - - - - - - - - - - - - - - - - - - - - - - - - - - - - - - - - -
Kidzlit
This literacy program for homeless children age 5-9 is run from the Coachman Family Shelter in White Plains in collaboration with BOCES. Its objective is to narrow the reading gap between children from low-income families and those from wealthier families to ensure that these children do not fall too far behind in the early years of elementary school.
- - - - - - - - - - - - - - - - - - - - - - - - - - - - - - - - - - - - - - - - - - - - - - - - - - - - - - - - - - - - - - - - - -
Elementary School
Educational Enrichment
Children in grades 2-8 receive individual homework and reading help, group tutoring in English, math, science and history and participate in educational games including Scrabble and chess.
- - - - - - - - - - - - - - - - - - - - - - - - - - - - - - - - - - - - - - - - - - - - - - - - - - - - - - - - - - - - - - - - - -
College Prep
Students in grades 9-12 participate in a variety of educational and college prep activities including subject area tutoring, individualized help with Regents Test Preparation, SAT tutoring (TOEFL tutoring is provided for bilingual students), college tours and educational field trips. Assistance is provided with all aspects of the college application process. Each year, 8-12 college scholarships averaging $4,000 are awarded to deserving students to ensure that they don't have to drop out of college due to financial hardships.
Location and Hours:
3:00-7:00 p.m. Monday – Thursday
Coachman Family Shelter
123 East Post Rd.
White Plains, NY 10601
Roosevelt High School
631 Tuckahoe Rd.
Yonkers, NY 10710
Grinton I. Will Library
1500 Central Park Ave.
Yonkers, New York 10708
… and at local libraries. Bus fares are provided to mentoring locations as most participants cannot afford transportation.
Brighter Futures Summer Day Camp
"For four weeks in July our Day Camp gives homeless and disadvantaged children a stimulating and recreational environment, where they can escape from their problems and the stigma of poverty, and just be kids."
Brighter Futures Summer Day Camp has been in existence since 1976, providing an enriching recreational program for a four-week period in July. The camp serves up to 100 homeless and economically disadvantaged children ages 5 to 13.
Without the camp experience, most of the children we serve would not get any form of summer recreation or enrichment and would spend the summer idle at home or in the streets.
Many of our campers have multiple problems in their lives and, increasingly, are sent to Brighter Futures because other camp programs struggle to meet their emotional and behavioral needs. Brighter Futures has had tremendous success working with these children. Parents, guidance counselors, social workers and teachers consistently report that the camp's positive and lasting influence on the children is seen in the classroom, at home and throughout their teenage years.
A typical day at camp includes swimming, tennis lessons, games, arts & crafts, music and a reading & writing activity. A pizza party and weekly awards ceremony are held every Friday to reinforce and build campers sense of achievement and self-esteem. The schedule also includes academic and literacy enrichment activities so that children don't backslide in their academic skills during the summer.
Special activities such as Olympics Day, Carnival Day, a Talent Show and a Fashion Show add enriching dimensions to the camp program.
Many of the children come to camp hungry—so breakfast, lunch and a snack are provided daily. Campers are also welcome to take food home with them. Clean clothing, new sneakers, bathing suits, towels and school supplies are distributed as needed.
Camp staff includes a mix of Certified Teachers and college and high school students. Many of the children who were once campers return to be counselors-in-training and then counselors.
The families of the children who attend camp face significant challenges. Many live in local homeless shelters with their families or have lived in shelters in the past. Few of the families are able to afford the camp fee, so Brighter Futures provides full or partial scholarships to almost all of its campers.
The cost of sending a child to camp is $900 for each summer session. Homeless children are eligible for a $400 camp subsidy from the Department of Social Services. Most other children require a full scholarship. The annual scholarship need is approximately $60,000.
Location & Hours:
George Washington Elementary School
100 Orchard Street, White Plains, NY 10604
Monday to Friday 8:30 a.m. – 4:00 p.m.
4 weeks in July
A Special Thank You to our Grantors
HOW YOU CAN HELP
AFTER-SCHOOL MENTORING:
Financial donations to the Brighter Futures Scholarship Fund are appreciated.

Donations to help high school seniors attend their prom are also needed- to help cover the cost of tickets, flowers, dress/tux rentals, shared limo rides, etc. and ensure that hard-working students don't miss out on a very special occasion.

$25 gift cards—to Target, Walmart, Kohl's or Dick's Sporting Goods are needed for use as Birthday, Christmas and Graduation gifts.

Tickets to sports events, theater, arts or other cultural events for 2-25 participants are welcome.
SUMMER CAMP:
Donations of bathing suits (all sizes including adult), towels, swim goggles and suntan lotion are welcome. Your financial donations can help provide camp scholarships, purchase camp equipment and clothing for our campers.
Volunteers can assist by helping a high school student navigate the college application process or organizing a School Supply or Snack Drive. Each year we need approximately 8,000 snacks and drinks- popular items are individually packaged granola bars, cereal bars, pretzels, filled crackers, dried fruit and packaged cookies.
To Volunteer or make an In-Kind Donation—please contact:
Contact:
Nancy Inzinna
914.949.3098 x 9735
ninzinna@liftingupwestchester.org
Downloadable PDFs for: